About Us
Some businesses begin life as a grand vision. Others start out as a simple idea. The latter is how Quality Label has made its mark.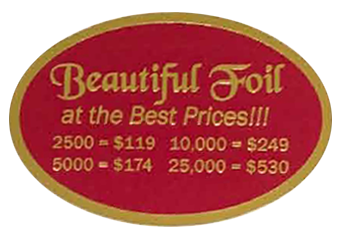 We Offer More Than Beautiful Labels
In 2011, I came up with the idea of bakeries using foil labels instead of adhesive tape to seal a box. I thought it would give their baked goods a touch of class and help them to be noticed. To market the idea, I began using the term Bakery Labels and started mailing sample labels to bakeries.
Although our early foil labels were simple creations due to the nature of the equipment we used, our product was a success and Quality Labels took on a life of its own. We have since replaced our initial machines with state-of-the-art equipment and expanded our product lines to include foil hot stamped, foil embossed, and laminated digital labels – and they all look fantastic.
We offer more than beautiful labels, though. We also focus on providing our customers with improved marketing materials and lowering the cost of being noticed. It's not just a matter of charging a decent price per label; our greatest value is the staying power of your image.
Companies pay thousands of dollars for billboard advertising just to capture someone's attention for only a few seconds. When your product leaves your business with one of our foils attached, it will carry your own miniature billboard. It will be noticed everywhere it goes. This will bring new business by word-of-mouth and helps customers to remember you so they return to you more often.
We're open Monday through Friday from 9 a.m.-5 p.m. Eastern time. We answer our own phone and talk to customers one-on-one. If you prefer, you can also email us. Don't hesitate to ask for me personally.
Andy Puleo
President
Quality Label